Repair & Overhaul Service

---
Within the UK we offer a full repair and overhaul service for Bosch, Brose, Impulse, Panasonic and Yamaha ebike motors. Please note: We do not currently support Shimano motors.
How to Send us Your Motor
If you can, remove your motor or have your local bike shop remove it for you, then just follow these simple steps:
You will be able to select a service/repair or upgrade option. Completing the booking form will automatically update our systems and we will know that your motor is on its way and what type of work you require. There is no need to contact us at this point. We do not require your tracking numbers, or need to know that your motor is on its way.
Please print a copy of the booking form at the end and pop in the box with the motor.
Pack your motor well – See packing tips below and send us your motor to the address shown on our Contact Page.
---
Packing Tips
We are currently unable to accept motors for repair from outside UK! Please visit our Partners page to find a repair centre near you.
Ensure your motor is well packed, plenty of bubble wrap and a strong box is usually sufficient.
DO NOT USE the large air packets, when they pop your motor will not be protected. Remember to include a copy of your Booking Form or something to identify you.
This is what happens next Once your motor has been received and processed, our admin team will email you that your motor has arrived.
Note: Any repair date given is only approximate. Often our technicians can improve on the given date.
We will then contact you again once your motor has been assessed or repaired (depending on your choice of works selected at the booking stage).
Once your motor is all done, we will send you an electronic invoice with payment options including secure card payment link.
Once payment has been made your motor will be despatched back to you as soon as possible. Tracking details will follow by e-mail/text directly from our courier.
If for any reason you do not wish to proceed with the repair, we will re-assemble your motor and send it back. You will only be charged £15.00 for the post and packing cost, no labour will be charged.
---
Your motor will be tested, stripped and inspected. Next, we contact you with a report and price before going ahead with any work.
Usually, just the parts or bearings that have failed will be replaced. Often with certain makes a full overhaul may normally be required anyway.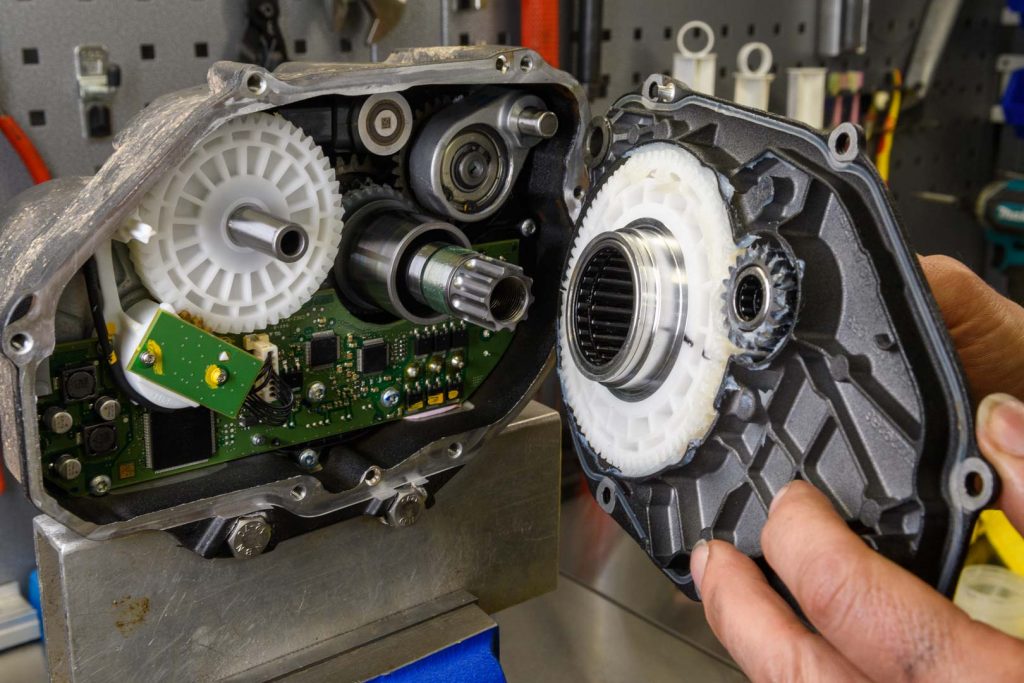 ---
Instruct Us to do a Full Overhaul
If you would prefer to save time, you can instruct us to do a full overhaul on your motor (see prices below). This will save us contacting you with reports and findings and then awaiting your response.
Your motor will be tested and then all internal drive train parts removed for ultrasonic cleaning and inspection.
All drive train bearings will be removed and replaced with original or better
New grease is then applied to all relevant surfaces and extra specialist greases maybe used to help protect from wear or water ingress
New seals, O-rings and circlips fitted
The motor is then reassembled in our clean, custom built workshop and re-tested.
In the event that a part has rusted, failed or worn beyond acceptable limits, you will be contacted before we go ahead and fit a new part.
---
How much does it cost to overhaul e-Bike Motors?
Classic (Gen 1) £257.00*
Active Line (Gen 2) £315.00*
Performance Line (Gen 2) £315.00*
Performance Line CX (Gen 2) £315.00*
Active Line (Gen 3) £257.00*
Active Line Plus (Gen 3) £257.00*
Performance Line (Gen 3) £257.00*
Performance Line CX (Gen 4) £362.00*
C, T &S 1.2e, 1.2 & 1.3 £355.00*
S-Mag 2.1 £355.00*
Note: Overhaul does not include upgraded bearings or belt.
2.0 & 2.3 £224.97*
Evo & Evo RS £252.62*
PW £257.95*
PW-SE £257.95*
PW-ST £257.95*
PW-X £257.95*
PW-X2 £257.95*
---
---
Worldwide Partners
The eBike Motor Centre (Performance Line Bearings) works with partners across the world.